OSCAR - Orthosonics System for Cemented Arthroplasty Revision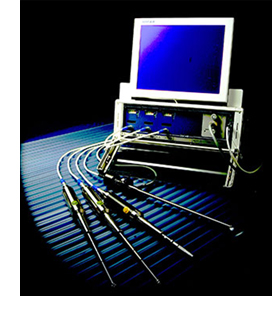 OSCAR uses ultrasound to rapidly heat up the cement used in cemented arthroplasty allowing ease of removal of PMMA without compromising bone stock.
Cement removal technique is extremely rapid and can normally be accomplished in 25 minutes or less. PMMA bone cement responds instantly to a vibrating wave-guide. The risk of bone perforation or fracture is negligible when OSCAR is used, as the probes are designed to emit a characteristic sound the moment they come into contact with the bone surface. The equipment is simple to operate, and both efficient and predictable in its performance. It has been designed with surgeons, scrub nurses, technicians and hospital engineers in mind and it use permits the accurate scheduling of operating lists.
Benefits of OSCAR
Proven: over ten years of safe world-wide use

Digital: complete computer control of modules

Feedback: acoustic and tactile feedback of bone/cement interface

Efficient: speedy and complete removal of the cement with low risk of damage to the bone

Safe: preferential ultrasonic absorption of bone cement. Minimal damage to bone with the use of specific tools for bone cutting when removing complex cemented or uncemented prostheses

User friendly: simple set up and monitoring

Modular: back-up and flexibility

Portable: transportable to any locations (Peninsula Malaysia)

Multi-joint – applicable to all cemented joint revisions

OSCAR consists of the following components:
The Generator
The generator which is mains powered and completely portable is made up of five modules. There is an input power module running three identical modules each driving a handset with a cement removal or prosthesis extraction probe attached and also running a fourth module which powers the endoscopic light source and camera.


The Handsets
The signal from the generator induces the crystals within the handset to vibrate producing ultrasonic energy. Heat is produced when the tip of the probe is in contact with bone cement, causing the cement to liquefy for a fraction of a second

The Probes
All cement removal probes are designed to perform a different function: grooving, scraping or piercing or extraction. Probes come in sizes ranging from 6-13mm.

The Camera and Endoscope System
Latest camera technology provides complete visualisation of the canal.